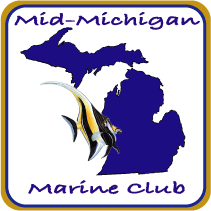 Annual Swap - Michigan Coral Expo and Swap
MMMC will be hosting it's 6th annual swap Sunday, January 29, 2012. This year we will be co-hosting the event with the Grand Rapids Marine Aquarium Society (GRMAS) and CaptiveReefs (CR)! This event has grown into one of the largest reef aquarium events in Michigan. Attendance last year exceed 450 hobbyists from across the midwest. With the GRMAS and CR, this event will be the largeest reef hobby event in Michigan! The combined event is being called Michigan Coral Expo and Swap (MCES). We anticipate a record turnout this year. Vendor's don't wait to get your space reserved table space is limited!
On the day of the swap, doors will open for setup at 10 am. Only those who have purchased tables will be allowed in at that time. The main doors will be open to the general public from noon to 5:00 pm.
The swap will be at the same place we have had it in the past:
Fraternal Order of the Eagles Hall
4700 N Grand River Ave
Lansing, MI 48906


Admission to MCES is as follows:

Non-seller entry fee $3 per person. Kids 12 and under free.
MMMC, MASM and GRMAS are free with proof of membership
Regular Table Prices** are as follows:
$60 for full table ( Includes admission for 2 people)
$30 for half table (includes admission for one attending seller. One person per half table, please)

**Note that early bird pricing is in effect until January 8, 2012. Plus certain locations are designated as premium. Visit this link to see current pricing and availablity.
CaptiveReefs is handling the table reservations again this year. If you are a seller and need a table, please use the link below to reserve your table. Tables are going fast, so please don't wait.
---

For more information, follow the swap threads at these forums:
"What are you bringing to the swap thread"